GetMindApps presents the top 3 MMA fights in October 2023
October in the UFC was filled with an abundance of surprises, with one of the biggest being Sean Strickland's unexpected victory over Israel Adesanya. Despite Adesanya being heavily favored, he succumbed under the relentless pressure exerted by Strickland. Are we in for yet another exciting and unpredictable month of action in the octagon?
Our ambassador, Jevgenijs' The Hurricane' Aleksejevs, who recently overcame Dimitri Trenel to extend his undefeated boxing record to 14-0, is a sage voice on combat sports.
Having acquired substantial expertise in diverse fields, notably kickboxing, he is someone whose advice should be heeded when making your top UFC wagers.
He has voiced his opinion about the upcoming rematch between Charles Oliveira and Islam Makhachev, which is set to be the headline fight in October. Additionally, we have identified two other fights to keep an eye on during the month.
October 21, 2023: Charles Oliveira vs Islam Makhachev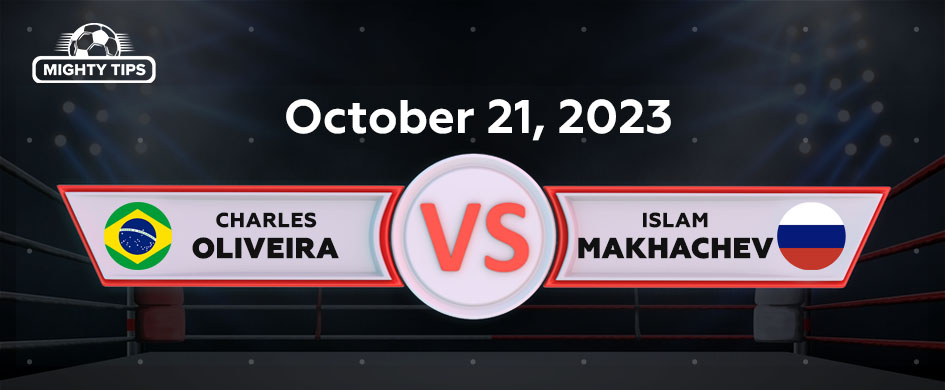 Venue: Etihad Arena, Abu Dhabi
Oliveira record: 34-9-0
Makhachev record: 24-1-0
Odds: Oliveira (3.65) Makhachev (1.33 fav)
Almost a year has passed since the world witnessed an intense and breathtaking battle between these two exceptional fighters. Makhachev's second-round submission brought Oliveira down, earning him the UFC Lightweight Champion title, a belt he proudly retains to this day.
Who is expected to win in this match? The truth is, the odds are accurate. Makhachev is an extremely unorthodox fighter, and with 11 out of his 24 fights won by submission, it is likely that he will dominate the early stages of this fight. If Oliveira gets caught in his web, there will be no escape. Additionally, Oliveira is currently in outstanding form, with 12 consecutive wins. His impressive 60.2% strike rate, whether in close combat or on the ground, demonstrates his efficiency in delivering attacks.
Despite everything mentioned, Oliveira cannot be easily dismissed due to his impressive record of 20 finishes, the highest in UFC history. He possesses the courage to throw punches even in challenging situations and has the potential to become a formidable opponent when faced with adversity.
We are choosing Makhachev as our top pick. It would be extremely difficult to bet against him, although the fight is expected to be incredibly intense.
What is the opinion of our prize fighter?
Here is The Hurricane's verdict:
Abu Dhabi will witness a resurgence of the martial arts scene, as the art of combat will flourish once more. During their initial encounter, Makhachev emerged victorious by employing the renowned "triangle" hold in the second round. As we eagerly anticipate their upcoming battle, what thrilling spectacle awaits us this time?

There is no doubt that Oliveira has put in significant effort to rectify his errors and gain valuable lessons from them. In the upcoming rematch, he will undoubtedly showcase an improved physical condition. On the other hand, Makhachev's preparation has been exceptional, and his team acknowledges the importance of not underestimating the skills and abilities of Oliveira.

The presence of these two formidable combatants in the same arena guarantees an extraordinary spectacle and an epoch-making battle that will be etched in our memories for years to come.
Oct 14, 2023: Sodiq Yusuff vs. Edson Barboza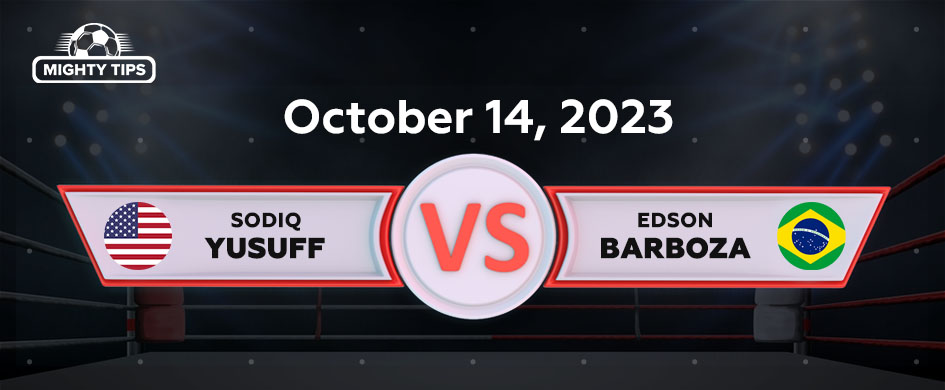 Venue: UFC Apex, Enterprise, Nevada
Yusuff record: 13-2-0
Barboza record: 23-11-0
Odds: Yusuff (1.62 fav) Barboza (2.33)
Sodiq Yusuff, who has secured consecutive victories since his 2021 loss to Arnold Allen, is stepping into his inaugural headline fight. With his captivating skill set, youth, and agility, the 37-year-old Brazilian fighter Barboza may find himself overwhelmed.
Oct 14, 2023 Jennifer Maia vs. Viviane Araujo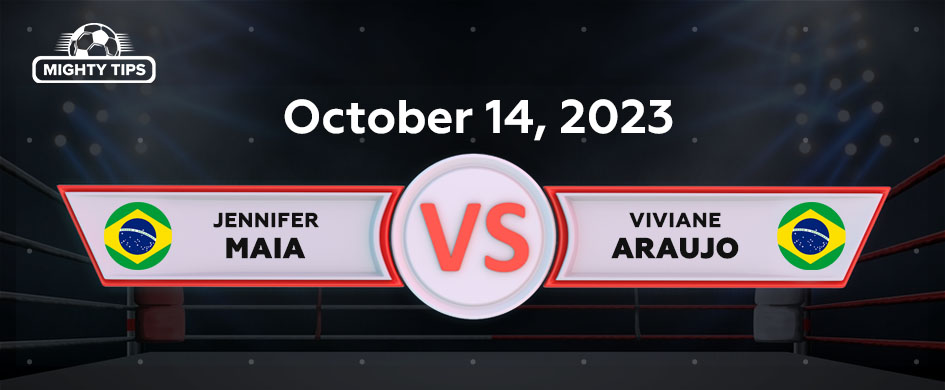 Venue: UFC Apex, Enterprise, Nevada
Maia record: 21-9-1
Araujo record: 11-5-0.
Odds: Maia (2.13) Araujo (1.77 fav)
In the highly anticipated co-main event, spectators will bear witness to a pivotal showdown between Jennifer Maia and Viviane Araujo, two women whose professional paths are currently diverging.
With a string of consecutive victories, Maia is steadily climbing the ladder in the women's flyweight division. On the other hand, Araujo, weighed down by consecutive losses, is facing difficulties in finding her footing again.
However, this battle represents a crucial chance for both contenders. Emerging victorious would undoubtedly guarantee a spot in the top ten rankings for the winner, setting the stage for an important match in their next fight. With a total of nine knockouts between them, viewers should expect a thrilling and fast-paced showdown. This fight is more than just a simple triumph; it is an opportunity for these two warriors to regain control and redefine their stories.
Follow GetMindApps for more boxing news. If you're interested in boxing betting, keep in mind that we provide you with the best betting sites for UFC and best MMA bookies along with mma betting apps.
For those seeking the thrill of live betting on various sports events, including MMA, visit the section best inplay betting sites. There, you can find real-time betting options and immerse yourself in the excitement of in-play wagers. If you're interested in virtual sports betting, find out more about virtual sports betting sites. Experience the excitement of virtual sports events and wager on your favorite teams and players with just a few clicks.
Make sure to visit our main page to find the most up-to-date free football betting tips, reviews, and expert insights on all aspects of betting. Our aim is to offer you top-notch resources for a pleasurable and well-informed betting journey.
Follow the boxer @ealeksеev on Instagram and Youtube for the latest updates on his career. For business inquiries, contact his manager at [email protected].