GetMindApps unveils top boxing fights in October 2023
Many boxing fans may view September as a disappointment, as it lacked the promised exciting fights and instead offered few surprises and one-sided contests.
Joy Joyce suffered a consecutive defeat to Zhilei Zhang, which has forced her to step out of the spotlight and regroup. On the other hand, Big Bang Zhang will focus on lucrative opportunities. Although a match against Tyson Fury seems improbable at the moment due to rumors of his agreement with Oleksandr Usyk, Zhang might consider facing Daniel Dubois. Dubois controversially lost to Usyk in August, making a showdown between the two fighters a logical choice.
In the meantime, Canelo Alvarez continued his dominant run in the boxing world. He showcased his skills once again by overpowering Jermell Charlo, delivering a knockout in the seventh round and securing a unanimous points decision. Following the match, Canelo confidently declared to the press his status as the best, questioning if anyone could surpass him. It's difficult to dispute his claim based on his impressive performance. Will he eventually give in to Terence Crawford's persistent challenges? Could David Benavidez, the preferred opponent among boxing enthusiasts, be his next rival? Whoever steps up to face this formidable 33-year-old force will need to bring their absolute best and surpass any previous efforts to secure a victory.
What are the top three fights looking like in October? We spoke to our very own GetMindApps ambassador, Jevgenijs Aleksejevs, to get his view on the dominant fight of the year. Plus, we provide free sports betting tips on two other eye-catching fights.
October 28, 2023: Tyson Fury vs Francis Ngannou
Venue: Riyadh, Saudi Arabia
Fury record: 33-0-1 (24 knockouts)
Ngannou record (UFC): 17-3-0 (12 knockouts)
Odds: Fury (1.14 fav) Ngannou (8.5)
The fact that this fight is happening has sparked controversy. Numerous observers and boxing enthusiasts, including former champions such as Carl Froch and Deontay Wilder, who previously fought against Fury, view this match as an unnecessary distraction. They would rather witness the heavyweight facing Anthony Joshua or Oleksandr Usyk.
Nevertheless, Fury's stance holds validity as he emphasizes the magnitude of his commitment. Even in the absence of a championship title, a victory for Ngannou could potentially tarnish Fury's esteemed reputation.
During a recent interview with TNT Sports, he expressed to Rio Ferdinand, "Ngannou possesses explosive power in both fists. His incredible punching strength has even earned him a spot in the Guinness Book of Records as the hardest hitter in history. This undoubtedly poses a risk. Furthermore, the ultimate gamble lies in facing an MMA fighter, while I hold the title of world heavyweight champion. What if he manages to defeat me?"
Despite his protestations and an air of desperation in building the hype for this fight, it's tough to see how Fury loses this. He's been at the top of the heavyweight division for nearly ten years, and he can dispatch Ngannou. You won't find great value on backing him though &— even the best sportsbook apps are not pushing his price over the 1.14 mark.
The Hurricane's Verdict:
I am absolutely confident in my forecast for this battle: Tyson Fury will emerge victorious by delivering a knockout blow. In fact, he will utterly dominate Francis Ngannou (figuratively speaking).

While Francis Ngannou unquestionably possesses formidable fighting skills, his exposure to extended bouts following conventional boxing regulations remains somewhat limited.

Tyson Fury's boxing style is exceptionally unique and challenging to anticipate, even for the most formidable adversaries. Furthermore, the fact that he willingly accepted the challenge indicates his unwavering belief in securing a victorious outcome.
Prediction: Tyson Fury by knockout.
October 21, 2023: Jack Catterall vs Jorge Linares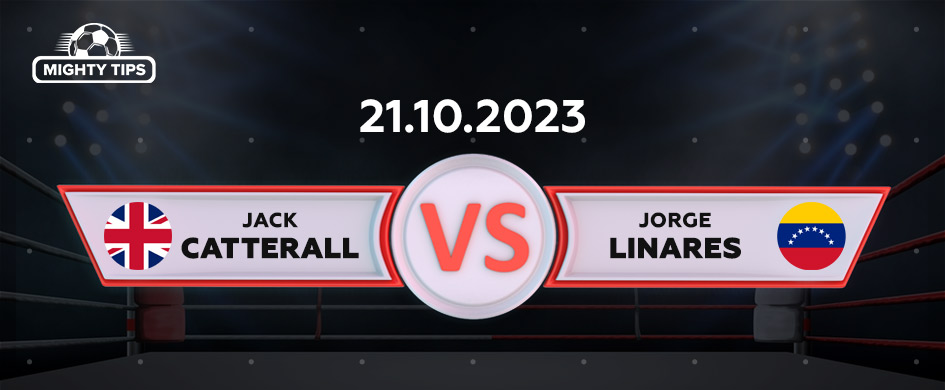 Venue: M&S Bank Arena in Liverpool
Catterall record: 27-1 (13 knockouts)
Linares record: 47-8 (29 knockouts)
Odds: Catterall (1.10 fav) Linares (7.0)
It would be understandable if Catterall harbored some resentment towards boxing. The Lancastrian experienced a contentious loss to Scotsman Josh Taylor in February, a decision that was widely mocked by spectators. Despite managing to knock down Taylor, who had never been knocked down before in his professional career, and largely controlling the fight, Catterall was ultimately defeated.
In May, upon his comeback to the ring, he displayed total dominance over US fighter Darragh Foley, sending him to the canvas twice in a one-sided bout. The global audience eagerly anticipated a rematch to settle past rivalries, but both Catterall and his supporters will have to exercise patience. Instead, he will face the seasoned campaigner and legendary figure of the sport, Jorge Linares, in his next challenge.
Even though experiencing three consecutive defeats, the old dog still possesses vitality. Catterrall's upcoming fight is filled with uncertainty, but a victory could potentially secure a rematch with Taylor and solidify his position.
He will do the business.
Prediction: Catterral to win by decision.
Oct 15 &— Tim Tszyu v Brian Mendoza (WBO Super-Welterweight World Title)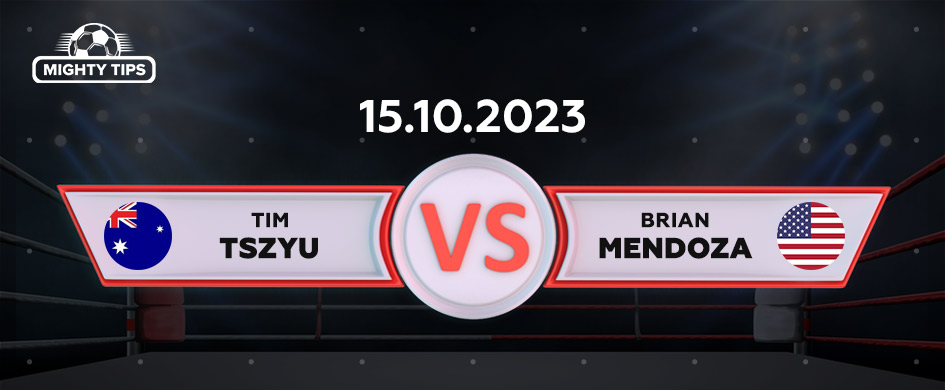 Venue: Gold Coast Convention and Exhibition Centre
Tszyu record: 23-0 (17 knockouts)
Mendoza record: 22-2 (15 knockouts)
Odds: Tszyu (1.25 fav) Mendoza (5.5)
Tszyu's American opponent faces a formidable challenge in this captivating match-up. However, the overwhelming strength of Tszyu may be too much for his rival to handle. With the super-welterweight belt at stake, this is undoubtedly the most significant fight of Tszyu's early career.
Despite being a heavy favorite, Tszyu will not underestimate the threat posed by Mendoza. Despite being considered an underdog, Mendoza has emerged victorious in his last three fights, including a surprising knockout victory over Sebastian Fundora in his most recent bout.
However, Tszyu has fought the better opposition, probably has the better chin, and favouritism with the best online betting sites for boxing is justified.
This one can go to Tszyu.
Prediction: Tzsyu to win by knockout.
Remember, you can back any of our predictions through our recommended betting apps for boxing. Check out Mighty Tips for more information.
Follow the boxer @ealeksеev on Instagram and Youtube for the latest updates on his career. For business inquiries, contact his manager at [email protected].