Male vs. female sports statistics
Regardless of age, gender, ethnicity, or background, sports have quite the reputation when it comes to uniting people globally. People will swarm to a game's high-profile events if they are quality. But it doesn't take much digging to see that the world of sports isn't as united and equal as we may think.
If you take a look and compare the statistics, the gap between men and women in sporting events is growing significantly. And it doesn't matter if you are comparing salaries, fan balance, or even recognition and popularity. Let's understand more about the statistics for males and females in this matter and also analyse and discuss the gender pay gap in sports nowadays.
In the most varied sports, it has been feasible to observe a significant rise in the proportion of female fans over time. This rise is especially noticeable in football, the most widely watched sport, with more and more women attending games and cheering on their teams. With that said, there are still far more male sports aficionados.
In the US, only 13% of female fans are considered avid fans.
The number of female fans has increased significantly in recent years, rising almost 50%.
The sports with the most female fans are volleyball, swimming, and tennis.
In the UK, almost 70% of sports fans are men.
Notable improvements in women's sports have brought an increase in fans.
Colombia is the country with the highest monthly rate of sports viewership, both among men (93%) and women (76%).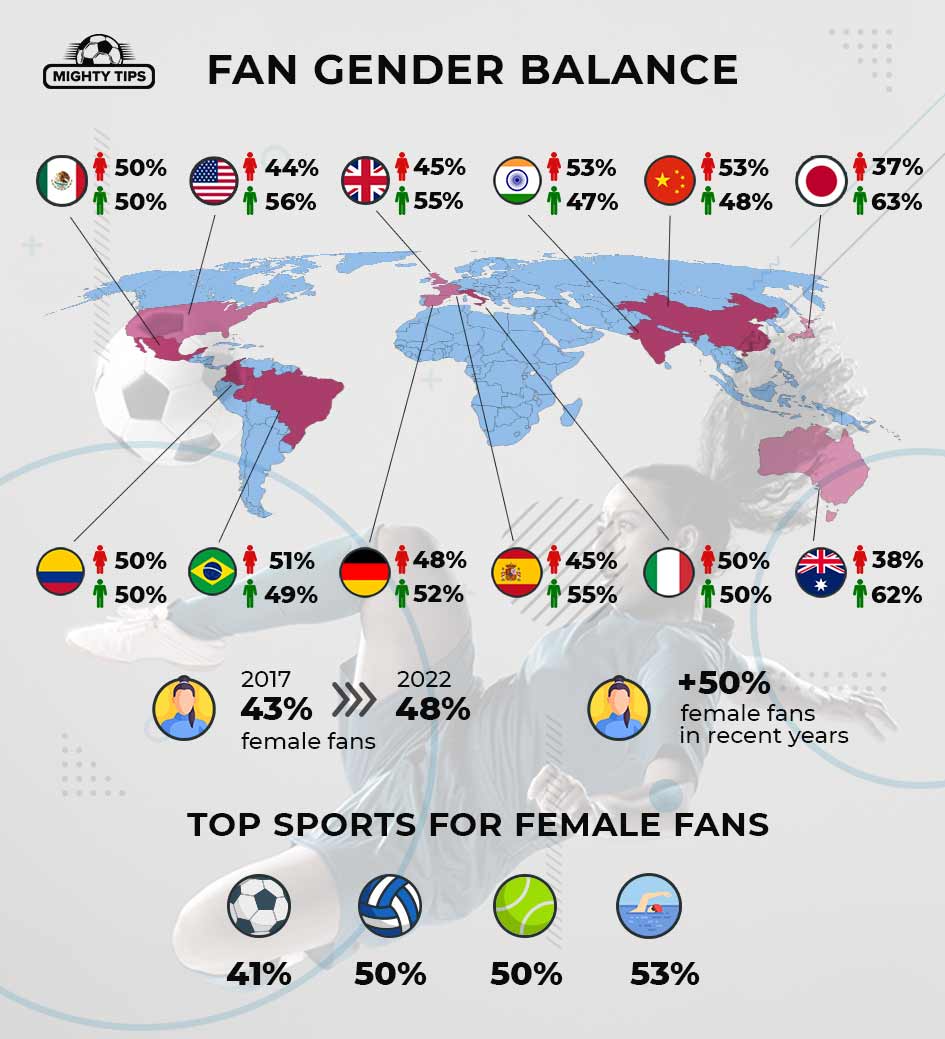 The increase in female fans has been made evident by surveys of women from different countries. While in 2017 only 43% were interested in at least one of the six most popular sports in the world, we can see that nowadays this number is already around 48%. So, we may soon see a 50:50 ratio.
In some countries, however, the gap between sports fans according to gender is still quite large. In the UK, for example, research shows that only 35% of sports fans are women, which is still a low number. In India and Brazil, however, the numbers reach 47%.
According to the same survey, swimming is the only sport that has more female fans (53%) than male fans (47%). Also, volleyball is fully balanced, with 50% of fans for either genre.
On the other hand, football — despite all the popularity that women's events have gained in this sport — has the lowest number of female fans, with only 41%.
The Popularity of Women's and Men's Sports
It is still undeniable that the popularity of men's sports is much greater than their equivalent in women's competitions, mainly because of the gender inequality in sports, although this is slowly changing.
When we talk about football, for example, clearly the men's World Cup, or European competitions like the Champions League have many more fans and spectators than the same women's competitions. In recent years, however, this difference has been narrowing, as women's events have also started to be televised.
In other sports, such as tennis and volleyball, the disparity is no longer so great, with fans eagerly following both types of competitions.
It is expected that in the near future we will see the popularity of women's sports growing even more and becoming the same as that of men's sports.
Nearly 80% of UK fans say they watch more men's sports than women's.
In football, for example, only major women's competitions are broadcast worldwide, such as the Euros or the World Cup. While for men's leagues even lower divisions gain space.
More than 50% of Mexican fans claim to watch both women's and men's sports.
1

Welcome Bonus up to € 100

T&C apply. Gamble Responsibly 18+

2

T&C apply. Gamble Responsibly 18+

3

T&C apply. Gamble Responsibly 18+

4

T&C apply. Gamble Responsibly 18+
Male vs. Female Professional Sports Salary
Unfortunately, in general in our society, women's wages are lower than men's. In sports, however, this is often even more evident due to the various astronomical salaries that male stars receive. So, when making a male vs female professional sports salary comparison, we usually get scared by the huge differences we see.
This huge disparity can be seen in several sports, such as basketball, baseball and, of course, football. While male athletes earn millions of euros or dollars, female athletes don't even come close.
It was possible to see the prominent difference in valuation when, in world football, the biggest female signing was worth £250,000, while in men's football the biggest in history was € 222m.
The most significant wage gap between men and women is still found in football. While Argentine superstar Lionel Messi earns almost 130 million dollars per annum as not just the highest-paid athlete in the world, but also the highest-paid footballer. In comparison, Carli Lloyd earns merely 518,000.
In most sports, male athletes can make from 15% to more than 100% more than women. It is true that, over the last decade, the compensation had improved considerably for women. However, the gap is still present and continues to be huge.
Tennis is the sport with the smallest difference between a female and male salary. The ATP prize pool is nearly $336,000 while the WTA prize pool is nearly $284,000
The highest-paid male athlete of 2019 (Lionel Messi) received 125% more than the highest-paid female athlete (Serena Williams).
In the NBA, a Rookie's salary can be as high as $900,000, while in the WNA it's not even $50,000.
The expected compensation for the champion of the next FIFA Women's World Cup is 60 million, while the last prize of the men's competition, in 2018, was 400 million.
Although the numbers have increased considerably in favour of women, we still see that inequality is large in terms of popularity and especially in terms of salary between the two genders.
It's expected that, in the future, we will see this gap narrow even further and that women's sports will begin to be valued as much as men's, as we continue to see traces of behaviour change coming from both the media and the overall audience.